About Us
Well, hello!
Thanks for visiting us! We are glad to invite you to discover a bit of what's behind the scenes here at CostomBobble.Co.Uk.
About Us
Custombobble.co.uk is the flagship brand of Custombobble Inc in United Kingdom. It's where the world turns for unique custom bobblehead that express what people love most for gifting, collecting and celebration. From the latest pop wedding cake topper design to favorite gifts, guest books and party favors, it's easy to find ideal designs and merchandise at Custombobble.co.uk.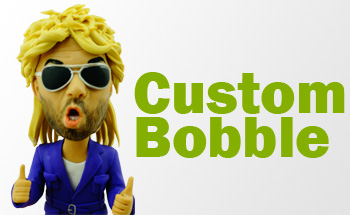 Our History
Our business was originally a wedding cake topper store, specializing in selling all kinds of things people need for decorating their weddings cake. When we wanted to add something different to the product line, we decided to try adding a line of custom wedding cake toppers, offering an end product that reflected the appearance of both the bride and the groom, making an already special day even more special. These wedding cake toppers were a smashing success. Based on the success of these custom wedding cake toppers, we decided to take things a step further and tried truly custom bobble head dolls! We began to offer figurines that were appropriate for various hobbies, for sports fans, and even for a little fun around the office.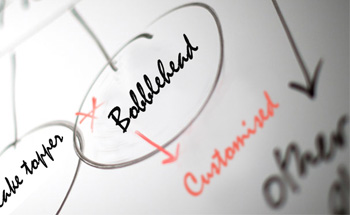 Our Products
Our custom bobblehead let you... be you! We're dedicated to providing you with an opportunity to express yourself through customisation. You can choose a bobblehead body model on our website or create a new one by yourself, provide us with your distinct photos and the finished product will be faultlessly presented by our talented artists. You imagine it, we will make it. As for the material, We use polymer clay, a type of nontoxic, polychrome and transformable material which can make your bobblehead very alive-looking. And we're committed to offering the highest quality custom bobblehead in the world, in an ever-expanding array of categories.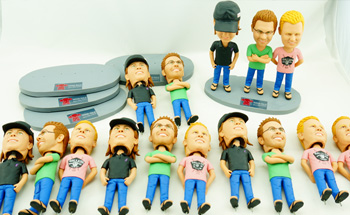 Our Mission
Our mission is: "To Enable Every Custom Bobble Head in the World On Our Platform." In other words, No matter how intricate and demanding your bobblehead is, CustomBobble is able to make the unique bobblehead for you with 100% Satisfaction. You imagine it, we can make it. It's no small task but we're getting closer to this reality every single day. And we're having a blast doing it.
Our Team
Custombobble are a passionate bunch. From our smart founder to versatile sculptors, from skilled IT elites to superb customer service perspectives... we're a mixed crew, but united by a passion to re-define commerce. All the artists are hired because they have met our rigorous technique standard and enjoy doing the sculpture works for our customers. All the service representatives are systematically trained with sculpture knowledge and working closely with the cake topper sculptures. This way, all the inquiries and questions from our customers could be responded quickly. Most importantly, your idea will be listened by both the service representatives and artists.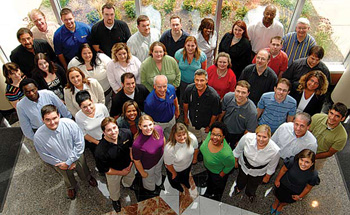 Contact Custombobble
The mindset at Costombobble is that anything is possible. With the versatile artists and cutting-edge technology, we can make any personalised bobblehead. If you have any idea for making your unique bobblehead, please do not hesitate to Contact Us.